Youth Red Cross, JNNCE Shivamogga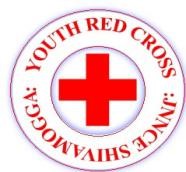 Red Cross Society
Swiss businessman Henri Dunant, who came up with the idea of the Red Cross Movement after witnessing the horrors on the battlefield during the Battle of Solferino in 1859 in Italy between the Austrian army and the Franco-Sardinian alliance. The Red Cross was officially established in the year 1863, which later became the International Committee of the Red Cross. Red Cross is an active participant in a wide number of programs and services, including emergency response, disaster preparedness, community-based health and care, first aid training and activities, restoring family contact for disaster victims, and youth and volunteer activities. The Red Cross flag looks like an inverted Swiss Flag.
Origin of Indian Red Cross Society
The Indian Red Cross Society (IRCS) was established under the provision of section 8 of the IRCS Act XV of 1920 with its National Head Quarters in New Delhi. The core focus of IRCS is to promote Humanitarian Principles and Values, Disaster Management, Health and Care in Community and Blood Services.
Youth Red Cross (YRC) OVERVIEW:
The Youth Red Cross Society is the most important constituent of its mother organization, Indian Red Cross Society. It is a group movement organized at the initial stages for students between 18 and 25 years of age within the colleges. Under the guidance of Programme Officer, the students are trained and encouraged to manage various programmes. The motto of Youth Red Cross (YRC) is "to serve".
Principles of YRC
Humanity
Impartiality
Neutrality
Independence
Voluntary service
Unity
Universality
OBJECTIVES
To develop Organizational skills, charitable services & civil leadership in our students
Awareness on the care of their own health and that of others
To foster better friendly relationship with all without any discrimination.
To foster better friendly relationship with all without any discrimination.
National Integration
The YRC motto
Youth Red Cross Unit members are the builders of the Nation who take part in bringing the very MOTTO of Red Cross, that is, "SERVICE TO SOCIETY"
Collaborations
• NSS unit of this college